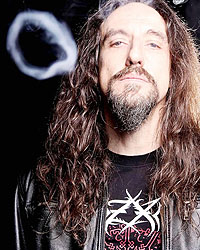 Steve Hughes


Download Bio

Steve Hughes
Yearning for a career where men want to be you and women want to have sex with you, Australian Steve Hughes spent his formative years as a heavy metal drummer. After ten years of recording and touring, Steve gave up his job as a professional drummer and decided to start talking to the audience. Heavy rock bands Slaughter Lord, Mortal Sin, Nazxul, and Primordial's losses are the comedy world's gain.
Established as a world-class comedy performer, Steve has earned a reputation as an erudite, philosophical, highly opinionated and original talent – a paradoxical blend of laid-back charm and acute caustic anti-establishment humour. Renowned for his distinctive, thought-provoking, straight-talking social commentary, he is truly one of the most sensational and masterful performers to grace the UK touring circuit.
Having joined Reginald D Hunter as a special guest on his UK tours in 2010 and 2011, Steve embarked upon his eagerly awaited debut solo tour in 2012. Big Issues was a smash hit success, with extra dates added to fulfill overwhelming demand. Building on his cult following, he returned to the UK in 2013 and toured again with a brand new show While It's Still Legal, playing over 50 dates across the country, to rave reviews.
Steve now divides his time between his native Australia, and the UK – his spiritual home, and is widely regarded one of the most esteemed and original stand-up comedians on the international circuit; highly sought after at comedy festivals around the globe. He has appeared twice at the prestigious Just for Laughs festival in Montreal, and has performed solo shows at the Sydney, Melbourne, Brisbane and New Zealand Comedy Festivals to rave reviews and sell-out crowds. Back in the UK, he has taken countless solo shows to the Edinburgh festival, performing for the first time in 2002 and then every year from 2004-2007.
On TV he has recently performed stellar sets on Live at the Apollo and Michael McIntyre's Comedy Roadshow  (BBC One), Stand Up For The Week (CH4) & One Night Stand(Dave). He has also appeared on two series of Comedy Cuts(ITV), The Live Floor Show (BBC2), as well as The Comedy Store, The World Stands Up and two series of Comedy Blue – all for Comedy Central.
Testimonials
"In your face, loud, anti-establishment and full of foul language… the captive audience lapped up every idiosyncrasy…barely a moment without raucous laughter from the crowd."
"Mark Thomas and Rob Newman have proven how effective comedy can be as a mouthpiece… Hughes knocks them into a cocked hat. In summary: Hughes is gold."
"Acutely observed and cutting bone-deep, Steve delves into gutsier territory – racism, terrorism, homophobia – with an honesty and openness rarely seen among comics, his insights are spot on, his opinions are intelligent and his jokes are top class."
"Makes armageddon sound like a proper laugh riot"
"Exactly what political comedy should be: intelligent, provocative, profound, and topped off with good, solid gags. See him while it's still legal."
"Rock 'n' roll comic…hard-edged, smart and very funny"
"Outstanding. Hughes is gold"